I have spent this past week hooked on the compilation CD that came with Issue 10 of
TWF magazine
, a magazine I bought erroneously for its featuring of Christian Death...
This, because I am terrible at recognizing faces, and he girl at the front really threw me off - especially since I do not follow the 'Valor' band, whatever they are called, I forget.
The magazine however, regardless is a fantastic magazine.
Its layout and design work are a bit rough, and very reminiscent of an old-school zine, though much bigger than the standard self-published rags (and of course it also has color). But good music mags, such as this are about the music, as they well should be.
Where the magazine really shines is in its content and coverage, wherein the music does not take a back seat to fashion and nifty trinkets; It is a fantastic mag for gothic music enthusiasts, even better with this amazingly well-conceived CD, which is my favorite part of the magazine and well-worth the purchase in its own.
This CD is quite possibly the best single-CD gothic compilation I have heard, period.
Featured in this CD are: Uninvited Guest, STandArt, ASP, Life's Decay, that band with Valor in it, Place4Tears, Niceville, 1000 Voices, Zombie Girl, Jesus on Extasy, Volkmar, Christine Zuffery, All Living Fear, We.Got.This.Far., History of Guns, and Die Form.
Though there is plenty to love for EBM and synth-pop enthusiasts, my favorite tracks are of course those that best fit my traditional gothic, deathrock, dark cabaret, and neo-victorian tendencies - several of which I was introduced to through this CD (which I am incredibly beyond grateful for):
Uninvited Guest
- You are your kingdom,
ASP
- How Far Would You Go?,
Life's Decay
- Decense**,
NiceVille
- Endless Cigarette**,
Jesus on Exstasy
- Beloved Enemy,
Christine Zuffery
- Mon Chant de Sirene**,
All Living Fear
- Jessica,
History of Guns
- Drag On**, and
Die Form
- BWV 147-5, and *sigh* admittedly...
That band with Valor in it
- as much as I love the original Christian Death, it really is actually very good track, and they are actually a great band when not doing the Rozz Williams era stuff - which I still feel should be left to
CD 1334
.
(** denotes my four absolute favorite tracks)
I look forward to future releases from
TWF Magazine
, if only for their musical selection prowess.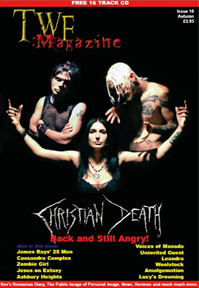 Magazine cover copyright TWF Magazine, Image copyright Christian Death