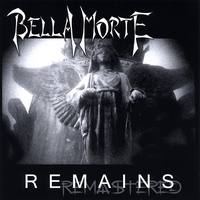 The music of Bella Morte has been a favorite on any decent gothic playlist since before the very first Cruxshadows tour, their earliest albums being my very favorites, of course, because I am an old and crotchety bastard like that.
If I hadn't already purchased their music long, long ago, I might have noticed that their earlier works weren't available - which would have made me a bit sad, and might have explained why they were doing less and less of their original works every time I went to a Bella Morte show.
There is no goth more deprived than one who does not have Bella Morte's earlier works.
This terrible deficiency might actually serve to explain the sudden explosion of fat pants and ball caps seen over the last decade, as well as the horrendous amount of overplaying of NIN's "Closer" and VNV's "Chrome", as well as the omni-presence of "New Metal" within the once-sacred confines of what were once alternative clubs.
But now, there is hope...
"Remains"
, Bella Morte's first album is
now available again
, as a download through CD Baby.
"Where Shadows Lie" and "The Death Rock EP" are also scheduled for re-release in the near future.
For those who like to have the actual CD in hand, a handful of new and used copies of the latter two are available through
Amazon
, no dice for any copies of Remains through that outlet however - but you may want to look around elsewhere.
For those who don't mind, or prefer MP3 downloads, you can follow this link to
buy Remains as a download
.